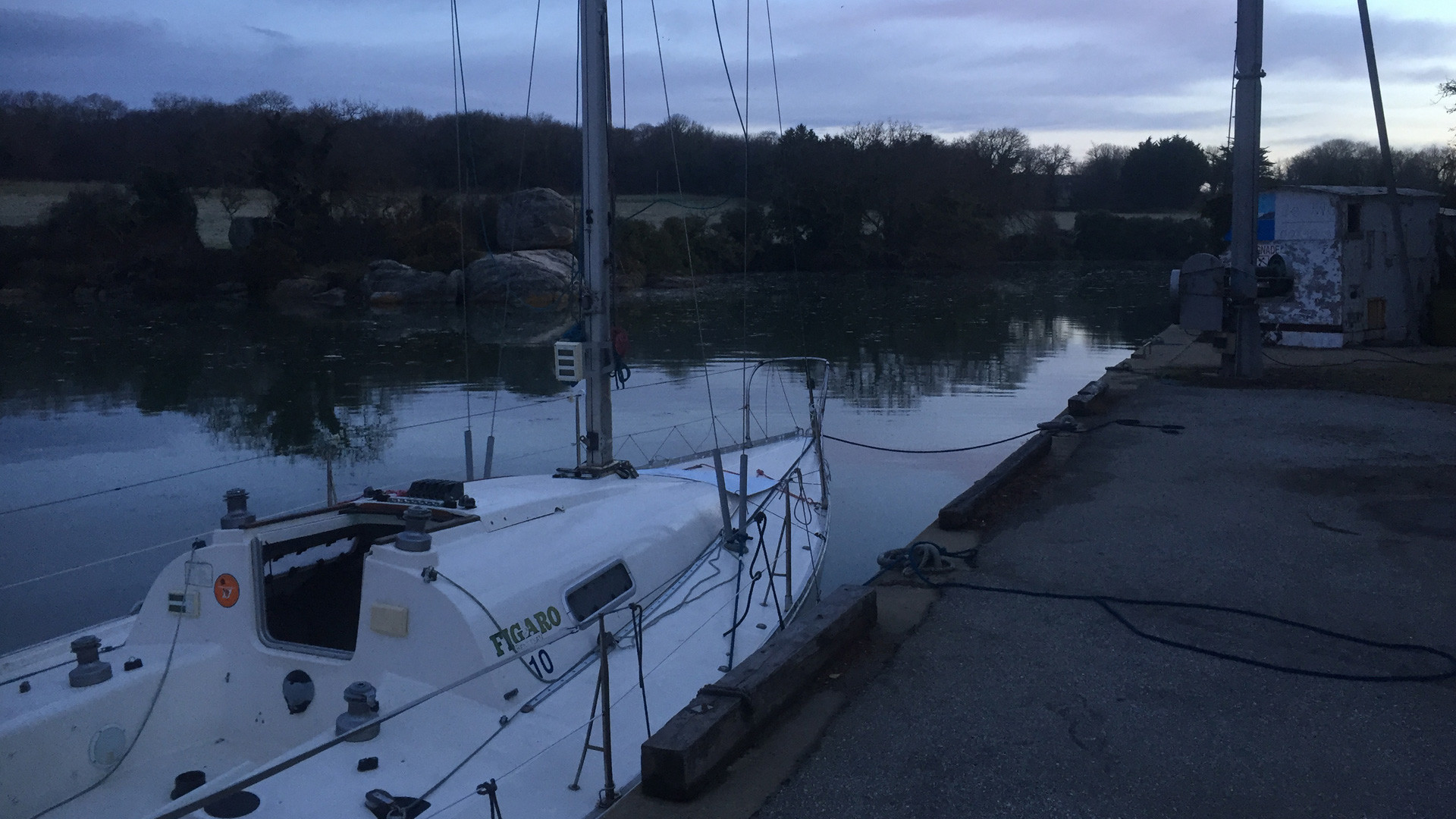 14 Mar

The ITW of Caesar, the Skipper of the Figaro 1 #10

Good day César,

You have made the transport of Figaro 1 No. 10 from Brussels to its future home port Concarneau. How did you live this experience?

So the first word that comes to my mind is that it was cold (laugh) !! In hindsight I can say that there were three stages of this delivery trip.

The first stage was from Brussels to Dunkirk via Breskens. This represented forty hours of navigation, following the channels among cargo packed full of containers, which was not such an easy task.

The second stage came after three days spent in Dunkirk waiting for milder weather. We finally departed on Saturday, February 3rd at 7 am, as the sun decided to come out of hiding, and presumed we would be arriving at Boulogne / mer in the early afternoon for a pit stop. The weather conditions were excellent for the rest of the afternoon, and new direction was set toward Cherbourg (ETA Sunday, February 4th – 7 pm). In the early night a breeze of North sector rises, we send the mainsail and the genoa, this breeze will quickly turn into 20 knots established forcing us to take at first a reef then a second, because the wind continues to force ! At 5 am we reach the 30 knots established, gusting to 35 / 40 knots and these conditions will accompany us to Cherbourg on Sunday, February 4th at 2 pm.

As the third and last stage was begun, I was still unaware that the hardest part was already behind ; no more cold, big gusts of wind, channels or cargo ships ! Tuesday, February 6th, Cherbourg – Guernsey with the passage of Raz Blanchar, under the sun ! Wednesday will be THE day of sailing. The most pleasant ! Departure from Guernsey with 20 knots of north sector, the sun, and especially the visit of three or four dolphins. It is a moment that any sailor has already lived at least once. But each time, we all marvel again, like children, with wide eyes in front of this still fairy-like spectacle.

I will arrive on Thursday 8th, in the early morning, at Aber Vrach. A small corner of paradise ! Then Camaret and its famous rum distillery followed by the passage of the Raz de Sein, unfortunately by night. And the reward of this long journey, one last downwind under spinnaker through the Glénans archipelago, under a blazing sun !!

We can characterize this trip as "challenging conditions". What were the conditions?

Yes no doubt we can say very challenging ! Especially to reach Cherbourg. The forecasts announced 20 knots gusting to 30 knots. We finally had 30 knots gusting to 40 knots with a heavy sea (4-5 meters) ! And the cold temperature..

How did the boat react ?

It is very impressive ! It is not an old race boat for nothing, it holds the sea like any vessel of 10 meters on heavy seas. And at the same time, a little beating in 8 knots of wind with Mainsail and Genoa, the boat advances to 5.5 knots which is remarkable ! Sincerely, I loved sailing on this Figaro, the sensations are really great.

1990: Common birth date between you and the boat. With your experience on boats of last generations, how do you evaluate the performances of the Figaro 1 ?
I understand better why this boat is so perfect ! (laugh) In terms of performance, this Figaro has clearly nothing to envy to any other ship in its class. The steering is equally suited for beginners and advanced sailors due to its simple handling and high performance. It is very responsive in light and variable winds and also hold very good the sea in difficult condition. In short this boat is an exceptional sailing boat, completely sea-worthy !
A boat, a unique story, a custom makeover with comfort on board, tailor-made performance, a new way to indulge yourself?
It was necessary to find the Achilles heel of this boat. Rustic comfort and insulation not efficient at all.
So you have to imagine a boat with a high standard of comfort and the performances of a Figaro ? !!
AWESOME !! There is no other word !
The final word ?
Thank you for this adventure and if you need someone to sail this little jewelry, do not hesitate to give
me a call !
Load More Figaro 1 ...