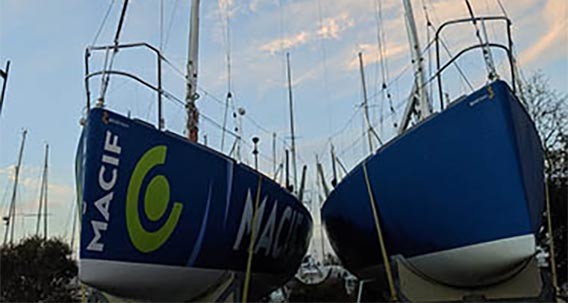 03 Feb

Creation of equipments for Figaro 2

Dream Racer Boats presents its its new products based on Figaro 2 equipments. This yacht, designed by Marc Lombard and built by the Bénéteau shipyard in France, was designed for La Solitaire du Figaro. It has proven successful from 2003 to 2018 in numerous races with renowned skippers.

At the beginning of this year, we welcome the former Figaro 2 boats of the TEAM MACIF offshore racing. These two boats FRA 79 and FRA 94 are programmed for a new navigation mode. One will have to be prepared for the Cap Martinique 2021 race, and the second for a race-cruise project. Elements of comfort will be added to the boats while keeping their performances, lightness and removable furniture will be part of the programme! In our workshops, new equipments has been designed. We will present you these new 2021 features soon on board these boats.
In a few words
On the roof, stars and names of skippers make these boats a little bit different…
Figaro 79, Auremat
Eric PERON, Paul MEILHAT and Martin LE PAPE have sailed the Figaro 79, AUREMAT. 
We also find Yoann RICHOMME. Sailing on the Figaro 79, this skipper won the Solitaire du Figaro in 2016 and 2019, finished 2nd in the Solo Concarneau in 2016, and 3rd in the French Elite Solo Offshore Racing Championship in 2015.
Figaro 94, Chou-fleur
This yacht has been sailed by François GABART, Gérald VENIARD, Fabien DELAHAYE but notably by the skipper Charlie DALIN.
Charlie DALIN's career will reach a real turning point in 2014: he has won his first French Elite Solo Offshore Racing Champion title and has become Skipper MACIF 2015. It was from this new title that the story began between the skipper and the Figaro 94, Chou-fleur. During 4 years, he has won numerous races and was often on the podiums. He finished 2nd in the Solitaire du Figaro in 2015 and 2016. Then he finished 3rd in the same race in 2017 and 2018.
Moreover, he won his second title as French Elite Solo Offshore Racing Champion in 2016.
Charlie DALIN, Vendée Globe 2020
The adventure with MACIF is far from over for Charlie DALIN. In the spring of 2018, APIVIA MACIF Mutuelle, announced the construction of a brand new Imoca for Charlie DALIN to take part in the 2020 Vendée Globe. 
Thanks to its experience and skills, Mer Concept worked from the design to the construction of the Apivia Imoca. Based in Port-La-Forêt, this company was created in 2006 by François GABART, winner of the 2012 Vendée Globe.
Charlie DALIN is the first to have crossed the finish line for this 9th edition. Yannick BESTAVEN arrived in third position but thanks to time compensation for having participated in the rescue of Kévin ESCOFFIER, the skipper is the winner.
Equipments according to your needs
The concept of Dream Racer Boats is to adapt a boat to a new sailing programme, while keeping the originality of the boat and its performance. It can be called, service à la carte. To simplify this refit process, we have developed and keep creating fitting kits, equipments and accessories. Today, we offer a Figaro 2 catalogue where each module can be customised.
We can already mention some of the new 2021 products: the fiberglass kit, the removable bow roller kit, the chart table kit associated with the instrument panel, the textile storage and textile wardrobe configurator.
This equipments are offered in small series and can be personalised (choice of finishes and materials used: carbon, linen fibre, bamboo fibre). 
These kits are also developed for DIY (Do It Yourself), the interest being to respond to distant requests.
Finally, for made-to-measure projects, the virtual simulation service will help you to project yourself and thus better visualise your future equipment or boat interior. Manufacturing is 100% done in our workshops with selected suppliers near us.
We will be presenting our new products in the next news, stay tuned!